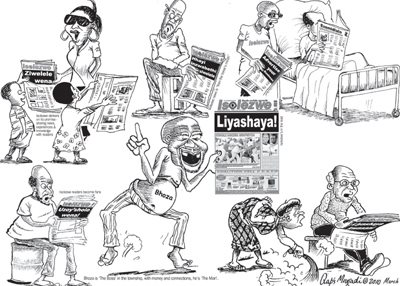 Thulani Mbatha
Isolezwe
editor for the past five years, Thulani Mbatha, says news content focuses to a large extent on the human interest aspect. "We tend to take the human interest angle - people stories. They're less predictable and we always try to get an exclusive
Isolezwe
angle on what we're reporting."
"With the controversy ranging around President Zuma's lifestyle and morals, we wanted to speak to one of his wives, again trying to be different. Our objective is not to be issue driven - rather we focus on what people want to talk about.
"Being able to know what our readers want is vital. Fortunately, we have the right team - a sharp news editor backed up by an excellent team of writers. Our lead story is very seldom the same as the English titles in our stable.
"Our focus is sharply on what Zulu readers are interested in, which is a moving target - our readers' lives and interests are changing all the time so we have to change with them."
"We introduced a highly popular motoring supplement, bring in new columnists to stay relevant, have partnered with Metropolitan to bring out a monthly supplement on entrepreneurs and business, and we include coverage of health issues, fashion, and women's interest," concluded Mbatha.
Mbatha said the potential for sales to soar this year during the 2010 FIFA World Cup was very real - especially if Bafana Bafana do well.