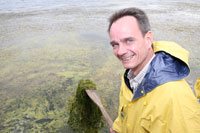 Carnie won the award for a series of opinion columns which appear in the
Mercury
every second week under the title "Human Nature".
The judges noted that Carnie made no apology for stepping into controversy. They commented on the "consistent strength of opinion" in his columns and said he showed "a wonderful relationship with the language of his communication".
"Good columnists research their subjects pretty well and this was shown by the depth of understanding that came through in these works."
Carnie also received a merit award in the 2006 SAB Environmental Journalists awards.
Chief judge Dr Ian Player commented: "One of the most influential and intelligent journalists in the environmental field operates from
The Mercury
in Durban. Tony Carnie, who has a string of awards to his name, is an inspiration to fellow journalists and environmentalists. He covers green and brown issues without fear or favour and has earned the respect of friend and foe alike."
Born in Kenya, Carnie started his journalistic career at
The Herald
newspaper in Harare, Zimbabwe, in 1982 and moved to Durban in 1985.
He writes on a wide range of environmental issues, from air pollution to energy, nature conservation, chemical hazards and climate change.
In 2001 he won the medical category of the CNN African Journalists of the Year awards for a series of articles exposing the links between air pollution and cancer in young children living next to the heavily industrialised South Durban area.
More recently, he has investigated several cases of toxic heavy metal poisoning in factory workers at the Assmang manganese foundry in Cato Ridge outside Durban.
Abroad, he recently attended an international conference on climate change in Tromso, Norway, the World Water Forum in Mexico City, a pesticide pollution seminar in Tanzania and probed links between petrochemical pollution and military massacres in the Niger Delta region of Nigeria.
He also writes "Earth Window", a weekly feature article in
The Mercury
.