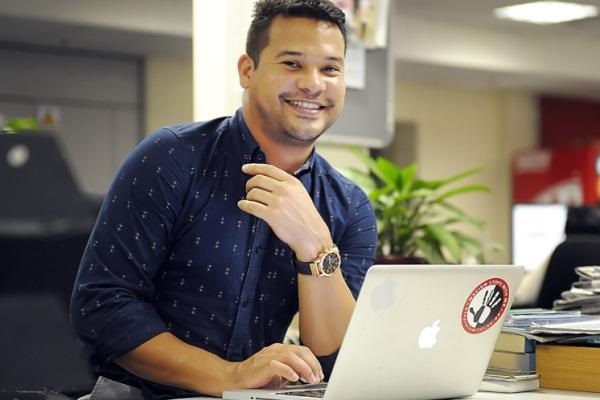 Lance Witten
Picture by David Ritchie
Following a more or less successful 15-year broadcasting career which, at one point, saw a somewhat meteoric rise from intern to executive producer of Cape Town's biggest and longest-running breakfast show within 18 months, why turn to print?
I've been asked this question a number of times and it isn't as much a question of "why print?", as I have come to realise.
Not for me, anyway.
For many of my former colleagues, at the face of it, they saw an ill-fated and ill-advised move to a "dying medium". But for my close friends, it was less about a move from broadcast to print and more about spreading my wings.
Ask me what my title is, and I'll tell you: deputy news editor at the
Cape Argus
.
Ask me what my role is, and I'll tell you: I assist the news editor, Jade Otto, I help oversee special editorial projects and I look after the title's digital platforms.
Ask me what I do, and I'll tell you something different.
You see, I am a storyteller. I tell stories for a living. And Independent Media is the only company that allows me to do so. It's the only company that was able to spot my love and passion for storytelling and provide me with a space to flourish.
We no longer live in a world where you can call yourself a newspaper journalist, or a radio journalist, or a TV personality. And Indy gets that.
In essence, it's not a question of leaving a successful career in broadcasting than it is about using this experience in my role at Independent.
In that broadcast career, I hosted in-depth talk shows as a host on radio in a first for a commercial music radio station, spent 18 hours broadcasting non-stop on the occasion of Nelson Mandela's death, woke up to broadcast from 5am on live satellite television during the World Cup draw before 2010, crossing live to CNN on the occasion of Paris Hilton's arrest and court appearance for smoking weed at the Nelson Mandela Bay Stadium during a World Cup match in Port Elizabeth, doing countless assignments as part of the country's first 24-hour commercial news broadcaster's special assignments corps.
So, not only am I a storyteller, but I am a multimedia storyteller.
During my time lecturing broadcast journalism and internet journalism to second-year students at Varsity College for a number of years, I used to teach them that they need to stop boxing themselves into a medium.
I was heavily biased towards broadcast, I admit, but seeing what the online world's potential was back in 2007, and then in 2009 when I started actively exploring truly interactive and immediate platforms like Twitter, to attending meetings and workshops with tech giant Google, I began seeing digital as the future.
Not that it could ever truly replace traditional media, for it is there where audiences - readers, listeners and viewers alike - go to block out the noise and get the facts, in context.
But we cannot bury our heads in the sand and stay in our lanes.
Our duty at Independent, with our digital first, print best philosophy, is to disrupt.
Why print? No, that question is now off the table.
Why Independent? Because I have a licence to disrupt. I'm afforded the opportunity to make mistakes. I'm afforded the leeway to play, try new things, touch the surface and test how hot the heat I can handle is.
Through special assignments like
#TheDignityProject
, the special editorial project with homeless people of Cape Town we recently concluded, I get to flex my muscles at being a true multimedia storyteller.
Have I perfected it? Far from it. Am I the example to follow? Absolutely not. For what is a disruptor if he or she follows the same mistakes of their predecessor?
The trick is to learn from our experiences.
But it's important to gain that experience, and fast. We can only afford to make so many mistakes and learn from each other - our winnings and our failings - and then improve on it.
And here at Independent, under the guidance and leadership of my editor Gasant Abarder, who has the faith to let me run with his visionary ideas, and the support of our Group Editorial Executive Karima Brown, I know I can only grow from strength to strength.
Why Independent? Because, where else?
Also read:
Transformation isn't about race, it's about excellence
and
Media freedom cannot be divorced from transformation