Most certainly, the purpose of display hardware is to attract attention but ultimately the primary function is to deliver the actual product and its key benefits as the hero to influence shoppers at the final point of purchase. A sizeable factor of offering any product to a market is ensuring that a quality product is offered at a competitive price point, with features and benefits to suit the demands.
Richard Nilson, Rocket Creative founder and MD, elaborates, "Rocket Creative design and manufacture an extensive standard range of Demo Plinths in a diverse range of shapes and sizes to fulfill most in-store applications. The modular, hollow core sub-structure design delivers robust structural integrity and has a separate print component. This allows the unit to be rebranded, thereby extending the unit's lifespan and ROI for the client. A further benefit that the units provide is that they can be supplied flat packaged, thereby reducing distribution/courier costs due to their light weight and compact volumetric packaging. This makes a significant impact for large nationwide roll-outs."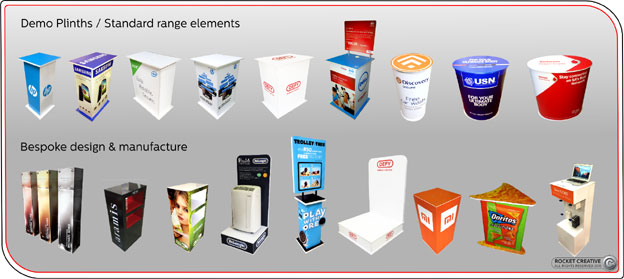 Demo Plinth elements - standard & bespoke
click to enlarge
The standard Demo Plinths deliver brands ultra-aesthetically. However there are also limitless options available for the customisation for bespoke applications and product-specific display functionality. With a universal application the units can be used across a host of environments such as in-store retail, mall centre courts for brand activations and at launches, expos, etc.
For assistance with your brand using Rocket Creative's innovative visual communication display solutions please contact the Rocket Creative crew on 011 262 4698 or email enquiries to az.oc.evitaerctekcor@olleh.