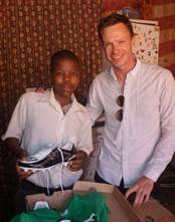 Menzi Mphambo with his new soccer boots and washing machine with Jason Levin, MD of HDI Youth Marketeers
Dhiya Rangasamy with the new laptop that she will use for writing her speeches
"You've made Christmas come early," exclaimed the mother whose two daughters were selected for HDI's birthday celebration in late November.
To celebrate their 15th birthday, HDI Youth Marketeers chose to throw a celebration for those at the core of their business: youth. From the millions of youth the company sees annually, they shortlisted 15 great kids and teens. "The idea here was to use our birthday to bring hope and joy to 15 youth whose circumstances or approach to life inspired us," says MD Jason Levin.
HDI contacted 15 youth in four provinces to see how they could make a wish of theirs come true. The wishes came in all shapes and sizes. Wish-recipients from Johannesburg included: a washing machine and new soccer boots for 12-year-old Menzi Mphambo so that he can more easily wash the sports kits for his soccer team; a laptop for nine-year-old Dhiya Rangasamy who is making her voice heard as an aspiring spokeswoman; and a bed for bed-less five-year-old Lewis Wynne whose story made news headlines when a tree collapsed on his container classroom and resulted in the amputation of both of his legs.
KwaZulu-Natal learner, Andile Lushaba, has endured enormous personal tragedy but remains whole-heartedly devoted to helping those who are less fortunate to him. This courageous young boy was granted his wish of new clothing and food for his family. Six-year-old Uminam Unako Magadla has overcome her stutter and outperformed all other learners in her grade in the school's reading programme this year. Her wish came true with a new wardrobe of pink clothes. In the Western Cape, matric pupil Lee-Ann Groenewald's wish included making a donation to the Anti-Animal Cruelty League which is a cause close to her heart.
"We had the best time watching the happiness unfold," says Levin. "Young South Africans are at the heart of our business and this birthday we were reminded about how small gestures really can make a huge difference in young people's lives. This, versus an industry party? It's a no-brainer, I think we made 100% the right decision!"
For the full low-down of all of the wishes and photos, visit:
www.hdiyouth.co.za/page_birthday.php
.