The Super M's brand is all about the moments between the madness. It's about forgetting your hectic life for a few minutes and taking it easy... and 'Just Chilling'. The brand wanted to bring this positioning to life in a unique way in the Western Cape during the recent holiday season.
Guerrilla IMC, media partners of the Monarch Tuksi Company stepped up with a unique media opportunity. Brand the Monarch's fleet of 20 Tuk Tuks and give the people and holidaymakers of Cape Town free rides - allowing them to truly 'Just Chill', while Super M took them wherever they wanted to go.
Matthew Palmer, business development director of Guerrilla IMC comments: "Twenty branded vehicles make a huge impact in Cape Town, its media that people really interact and engage with. I don't think anyone ever really got a free lift from a billboard! For brands that really want to cut through the clutter the TukTuks are the ideal platform. Which brand would have a more positive association, the brand that gave you a free ride home from the beach or the bar, or the brand that blocked your view of the mountain with a 3x6 billboard."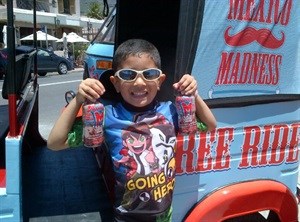 The Tuk Tuk's are part of the Monarch Tuksi company fleet and the demand for free rides during the campaign far exceeded their expectations. The Monarch Tuksi booking system almost collapsed due to increased demand within the first few hours of the campaign.
The campaign was also given a viral push on social media, with free rides Tuksi CPT getting huge coverage on Twitter, Facebook, Instagram and various travel blogs - news which peaked ETV's interest enough to do a piece on it.
Guerrilla IMC was the first media owner to provide this unique platform. Give them a call for a media solution that actually enhances your target market's lives. Call Matt Palmer on 0828547709.
The campaign by the numbers: